Description:
The application was launched by Indore Municipal Corporation on 2nd October 2016 to communicate directly with their community leaders in government to resolve issues in their neighborhood. It is based upon 311 Non-emergency numbers in United States and Canada for providing information and tracking city services from intake to resolution. In India various cities have launched 311 mobile applications like NDMC 311, Ahmedabad -311 for providing access to wide range of information about public services and complaint regarding civic issues. Indore 311 application provides citizens a single platform to access information about various public services – Traffic, iBus, Helpline, Complaints, information about nearby –Banks, Blood Bank, Bus stand, Community Centre, Colleges, Gym, Hospital, Library, LPG Gas pump, Market, Monuments, Parking places, Petrol pumps, Police Station, Post Offices, Public Toilet, Stadium, Taxi Stand, School, Tourist Places.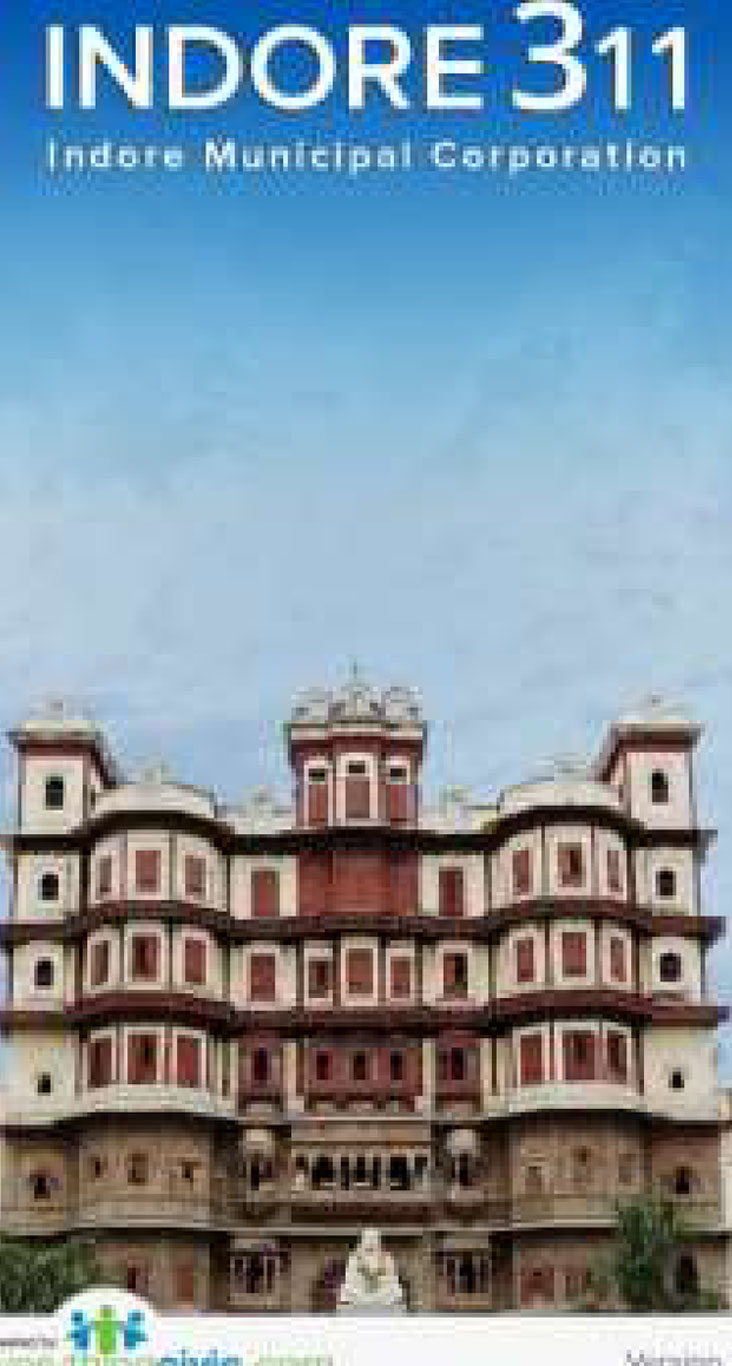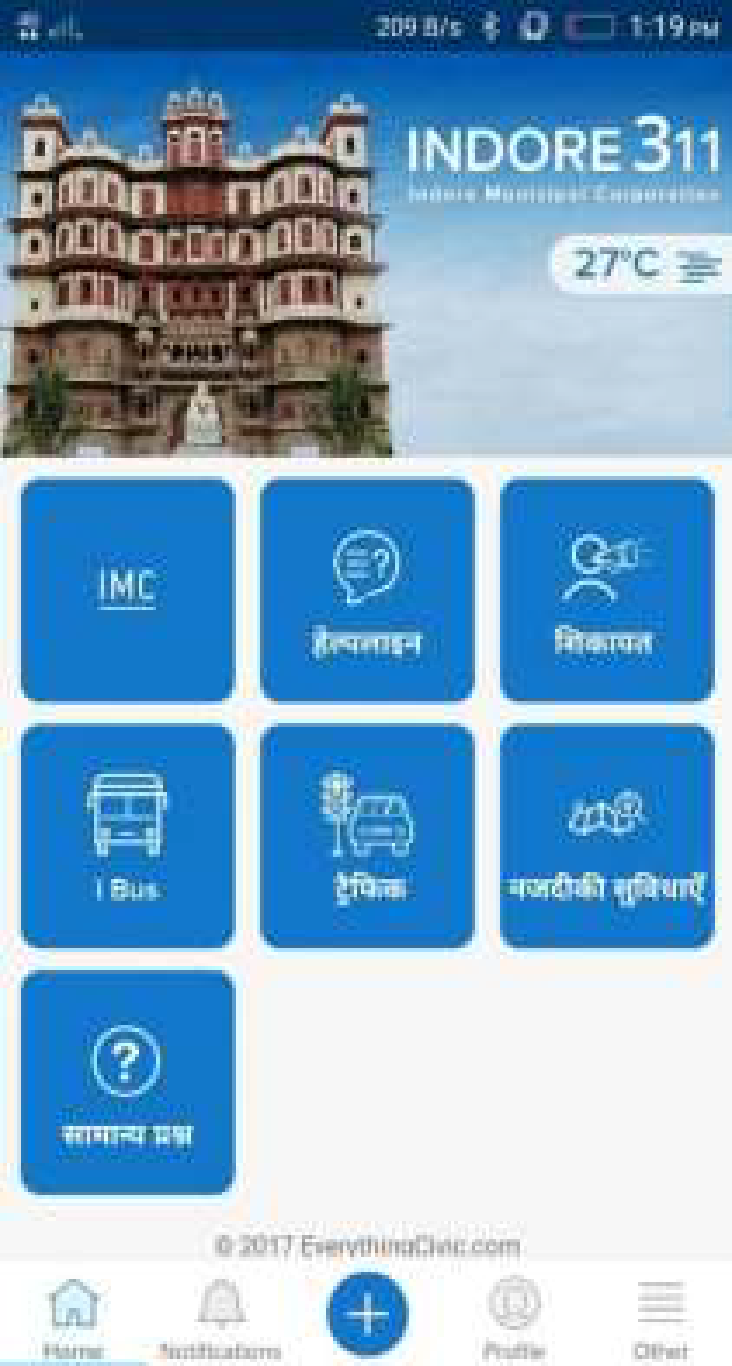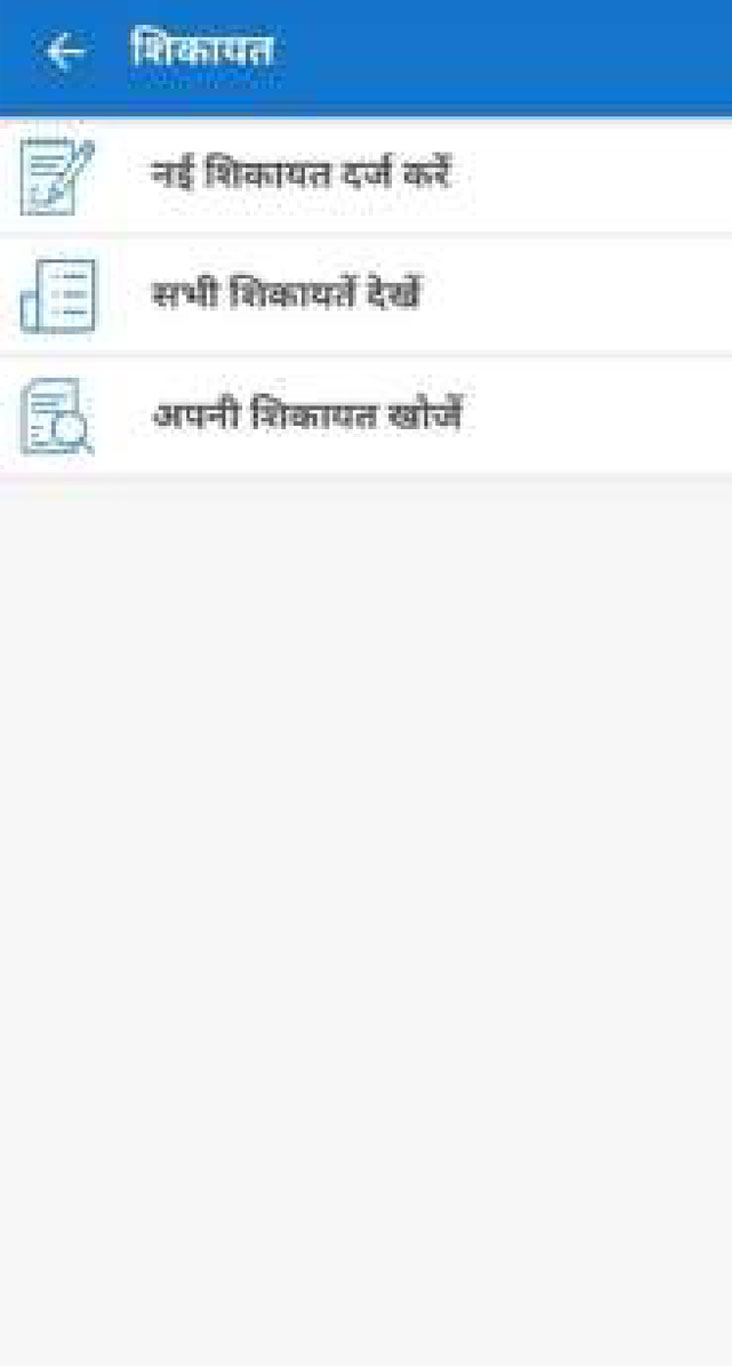 FEATURES:
+ Allows you to report Indore city civic issues in real-time
+ Location aware state-of-the-art Technology
+ Language agnostic user interface
+ Works in every area of the city (provided you have internet connectivity)
+ Instant sharing to Facebook & Twitter
+ User-friendly public communication system for civic issues
and more…
VERY EASY TO USE – JUST 4 STEPS:
Step 1) Capture a Photo of the issue
Step 2) Select category of issue (Garbage, Pothole, Health Issues, Dangerous Condition, Re-Development, Police Issue, Environment Issue, Noise Complain and other)
Step 3) optionally, write a short description
Step 4) Submit the issue
Let's make Indore better. Use Indore 311 app.
Android:- https://play.google.com/store/apps/details?id=com.everythingcivic.indore
iOS:- https://itunes.apple.com/in/app/indore-311/id1135167189?mt=8
Processes for the Innovation
Indore 311 application runs on Android and iphone based mobile phones and requires internet for its workability. One needs to register to access the app facilities. The registered user can access information about the public services in the city. So far, about 185,000 people had installed the app and are actively using it. Indore 311 app has been a mechanism for quick grievance redressal. Indore citizens can make online complaint regarding any service of Nagar Nigam along with photograph. The complaint goes to central server from where it gets forwarded to the concern zonal officer/ CSI/ Health Officer. The officer gets the details about the complaint on his/her mobile phone with geotagged photo. The Service-level-agreement (SLA) time-line for complaint redressal is 24 hours. There is Notification and SMS system by senior officer for the complaint. The resolved area photograph is uploaded by officer as a proof for the work having been completed. A feedback call is made to the complainant. The complaint is closed after getting satisfactory remark from the complainant.
Increased Accountability and responsiveness of Municipal staff
The Indore 311 App served as a ubiquitous measure spreading like wildfire with over 185,000 downloads in few months since its inception and was extolled as the voice of the mass in raising issues directly with the authorities. This also led to the authorities responding with equal vigor to ensure problems were solved within a 24-hr lead time. Accountability and responsiveness among the Municipal staff witnessed a change. As the grievances and complaints started getting reported either telephonically or through 'Indore 311 app', these were seriously taken note of and responded to. There was drastic reduction in turnaround time in addressing the issues. As pointed by one citizen "within one hour of launching complaint through Indore 311 app, the grievances are attended to and addressed". The increased vigilance of the citizens is equally responded by an increased response by the Municipal administration.

Outcome
Although there were several other platforms available for registering complaints but Indore 311 has been most convenient and successful in doing so and also in timely resolving the problem with greater degree of transparency. There has been 100% 175 achievement in complaint resolution within SLA time. Initially, Indore 311 started with health related query and complaints but later other services of IMC and locators were added to the application. Unlike the earlier process where a person has to make several calls to land-line number to make a complaint and which was never taken seriously nor looked upon. With Indore 311 app, the efficiency and transparency has greatly improved in resolving the problem. The citizens feel empowered that their one call/message on 311 app can put the system to work for them.