Swatch Bharat Mission (Clean India Mission)
On 2nd October 2014, the birth day of father of the nation, Mahatma Gandhi, the 'Swatch Bharat Mission' (SBM) was launched by Govt. of India. This was given the shape of mass movement with Prime Minister, Mr. Narendra Modi leading the mission. The mission was split into two parts – urban and rural. In urban areas, the focus was on building open defecation free (ODF) towns by constructing individual, community and public toilets, and scientific solid waste management.
Indore today generates over 1,115 MT of garbage a day and all of it is collected from the source whether it is a household or commercial establishment. The door-to-door service was started in January 2016 as a pilot projects in two of the 84 wards in the city. It took almost a year to achieve 100% door-to-door garbage collection. Indore through its commendable collaborative efforts has achieved segregation of waste at source at 100% of its household's and commercial units.
Citizens of Indore played a significant role in making the city neat and clean. The cleanliness scenario of Indore was changed by improved habits of its people. Within a span of one year the Municipal Corporation successfully sensitized citizens for segregation at source and not dumping garbage in open areas. The Swachhata story of Indore is truly transformation through community participation.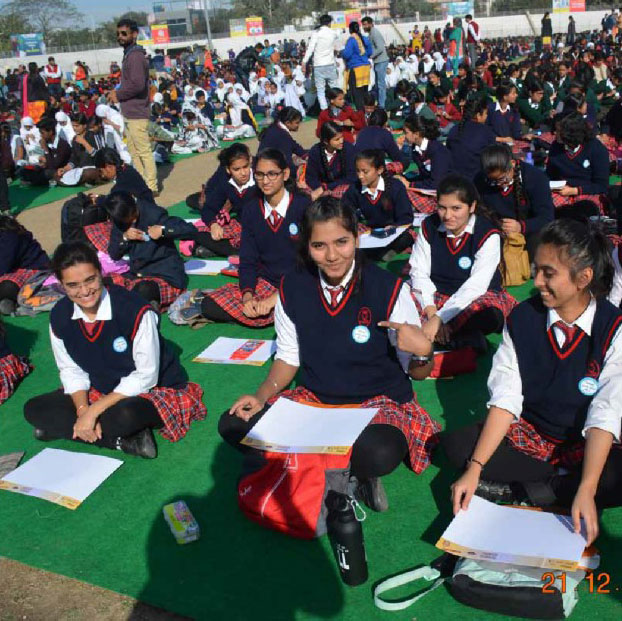 Door to door collection
Indore has been divided into 19 zones and 85 wards. Each ward has on an average 6,000 households and 600 commercial establishments (part of 88 notified commercial areas). In Indore, waste is generated from various sources including households, commercial areas and other institutions like RWAs, hospitals, hotels among others. The households or residential complexes are covered by the door to door collection system while the semi bulk and bulk generators are covered by the bulk collection system. Indore ensures the 100% coverage of wards through its door to door collection system.
Earlier, household waste collection system prior to 2016 was not so good. Solid waste management was carried out in three stages as explained below.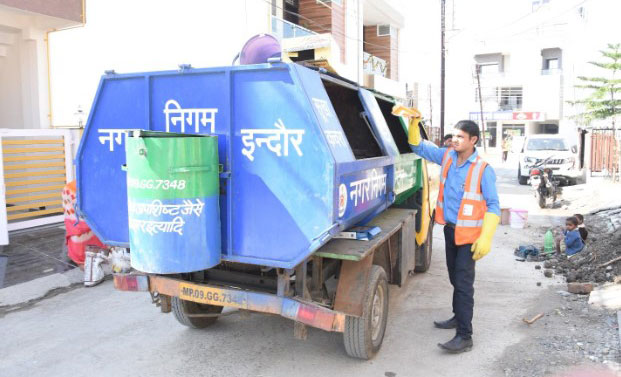 1) Primary collection: Household waste was collected in some locations by municipality workers and in others through private arrangement by housing colonies.
Private waste collectors were called "Jagirdars". They had very poor service quality levels and often dumped the garbage in open government land/ empty plots leading to health hazards for citizens.
In general, the waste collected was put in dustbins along main streets. The city had 1380 dustbins with some of them in very poor shape. These dustbins would often overflow creating an ugly look around the city. Stray animals (cows, pigs and dogs) would feed on this garbage. Some of these animals (cows and pigs) were looked after by the Jagirdars who could get additional income by milking the cows or selling the animals for meat. They had a vested interest in not keeping the localities clean so that the animals could feed on them and reduce their maintenance cost on these animals.
2) Secondary collection: From the central dustbins, waste was removed by a private contractor A2Z Infrastructure Limited and moved to open dumping ground in to Devguradia. A2Z was facing a severe financial crisis leading to severely affected secondary waste transportation system. Their financial woes were reflected in the poor maintenance of vehicles managed by them and irregular service leading to accumulation and overflowing of dustbins.
The combination of poor collection and transportation of household waste lent a filthy look to the city. In addition open defecation was prevalent in slum areas as the municipality had not provided enough public toilets for such people to use. Even with the city areas, cleanliness of public toilets was improper leading to open defecation by other citizens as well.
The Mayor expressed her concern about cleanliness to the commissioner and apprehensions about continuing with A2Z which led to a termination of the contract in August 2015, few months after Mr. Manish Singh joined as Municipal Commissioner of Indore.
Implementation of D2D collection system – In order to implementation successful door to door collection system, an identification study had to be carried out which helped to figure out the amount of waste generated at each ward and the population of each ward. On that basis, a detailed route plan was prepared to cover all wards. Based on the route plan, a detailed vehicle and staff deployment plan was implemented in order to meet the waste collection demand of each ward.
The door to door collection is done through the use of partitioned vehicles. There are three separate collection bins for wet, dry and domestic hazardous waste in each tipper. These tippers carry the waste from households to the transfer station, from where the waste is transported to the trenching ground in hook loaders. All vehicles used in the collection and transportation system are monitored by a GPS enabled tracking system. The GPS system is constantly monitored by the monitoring cell. Any route deviations by particular drivers are penalized and multiple deviations is also grounds for termination.
The wet waste from the domestic generators is collected through the Door to Door Collection System. The door to door collection system has been deployed by IMC to collect the waste from domestic generators and commercial areas in Indore. The waste is collected through partitioned vehicles known as 'Tippers' and transported to the Garbage Transfer Stations for secondary collection.
The wet waste from semi bulk generators generating 25 to 100 kg of waste is collected through the Bulk Collection System. The bulk collection vehicles consist of a dumper which is used to collect wet waste and a compactor which is used to collect dry waste. These vehicles move in pairs as per a predefined deployment plan. These vehicles on completing their collection route transport the waste straight to the central processing plant.
The bulk generators generating more than 50 kg of waste is comes under the category of bulk garbage generators. As per the GoI guidelines, it is mandatory for these generators to process their wet waste on-site. Hence wet waste is not collected from these generators.
The wet waste collected by the door to door collection vehicles is transported by the tippers to one of the eight transfer stations. At the GTS, the tippers unload the wet waste into dedicated compactors which compress and load the wet waste on dedicated hook loaders. The details of all the incoming waste collection vehicles are logged in the log books at the GTS. The bulk collection vehicles do not travel to the GTS but straight to the processing plant after completing their respective collection routes.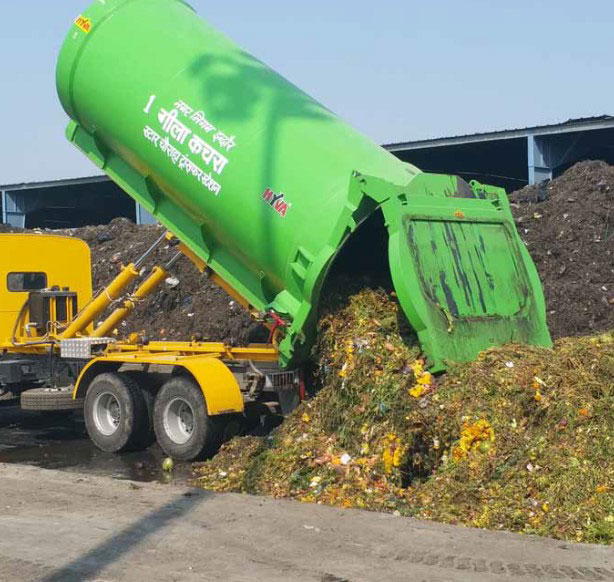 The Weighment Bridge facility is established at the central processing plant. This is the first point of interaction for all the vehicles incoming at the plant. This is a computerized facility where the weight of all the wet waste that is being collected by the door to door collection and the bulk collection system is brought to be weighed before it can move to the processing plant.
The wet waste is processed in two ways i.e. Central Processing Plant & at Decentralized Waste Processing Units. All the wet waste of the bulk generators (50 kg and above) is processed at their premises, so this waste is not processed at the central processing plant. The wet waste from the GTS (D2D Collection) and semi bulk collection (25 to 100 kg) is transported to the central wet waste processing plant, where it is processed into compost.
Dry Waste: Dry Waste is defined as the "waste other than bio-degradable waste and inert street sweepings and includes recyclable and non-recyclable waste, combustible waste and sanitary napkin and diapers, etc.".
The Domestic Hazardous Wasteconsists of material as sanitary pads, lead acid batteries, etc. This waste is collected in a separate bin which is attached at the back of the waste collection vehicle.
This waste generated as part of the dry waste is explained below.
The dry waste, similar to wet waste, is collected through door to door and bulk collection systems. The dry waste produced by domestic generators is collected through tippers and dry waste generated by all bulk generators is collected through the bulk collection system. The domestic hazardous waste is collected in a separate Third Bin which is attached at the back of the door to door collection tipper.

The GTS is used for secondary collection of waste. The dry waste is unloaded into dedicated compactors, compressed, loaded onto dedicated hook loaders and transported to the central processing plant.

The DHW is transferred into drums which are then sealed and weighed on the spot. This is done by the staff of an external agency that is managing the Central biomedical Waste Treatment Facility. On weighing the staff of the agency provides the GTS staff with slips where the collection time, date and weight of collected waste is recorded. The waste is then transferred to the facility in designated vans.

The waste is then transported to the Weighbridge Facility. This facility is located at the central waste processing plant and is the first point of interaction for all the vehicles incoming at the plant. The computerized facility records the weight of all the dry waste that is being collected by the door to door collection and the bulk collection system along with other details as vehicle in-out time, registration number, source transfer station, etc.

Indore has central dry waste processing facilities at Deveguradiya. At these facilities the dry waste is segregated into different components as metal, rubber, board, plastic, etc. this segregation is done by the 343 rag pickers employed at the two Material Recovery Facilities at the plant.
The Domestic Hazardous Waste is sent straight from the GTS to the Central Domestic Hazardous Waste Treatment Facility to be incinerated. This facility is managed by an external contracted agency. The facility is used for the treatment of biomedical and domestic hazardous waste. At this facility the waste is incinerated.
In dry waste processing, Inert is recovered at both the MRFs. The inert is then transferred to the sanitary landfill at the same complex. Before the transfer, the inert is weighed at the weighbridge and logged in the system.
The remains of Domestic Hazardous Waste, which are left after the waste is incinerated, are also sent to be landfilled. This is a separate landfill facility meant exclusively for hazardous waste and is termed as hazardous landfill.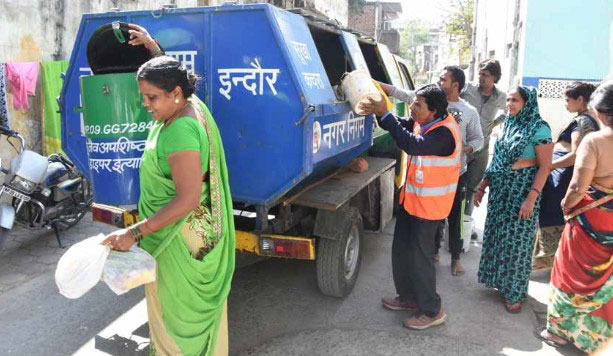 The detailed aspects are described below:
Waste Generation & Segregation: The waste is generated in Indore in segregated form. The waste generators have been classified as domestic, semi bulk and bulk generators. Domestic generators are the generators that generate less than 25 kg of waste per day. Generators that generate 25-100 kg of waste per day have been classified assemi bulk generators. The generators generating more than 50 kg of waste have been classified as bulk generators.
The waste is generated in segregated form as wet waste, dry waste and domestic hazardous waste by the domestic generators. The bulk generators segregate the waste as wet waste and dry waste.
Waste Collection & Transportation: The waste is collected in segregated form by partitioned tippers from domestic generators. These tippers have been partitioned in the ratio of 50:50, 60:40 or 85: 15. The wet and dry waste is collected by these vehicles in separate chambers. The domestic hazardous waste is collected in a separate bin that is attached at the back of the tipper. The tippers have a predefined collection route which has been defined in their deployment plan. The tippers on completing their collection routes, move to their designated GTS and offload their waste in the designated compactor. The compactor compresses the waste and it is loaded on the hook loader to be transported to the central processing plant.   
The waste from the bulk generators is collected through the bulk collection system wherein two vehicles are deployed to collect wet waste and dry waste separately. The bulk generators are further divided into two categories as per the quantity of waste generated. The first category consists of generators that generate25 to 100 kg of waste. These are small semi-bulk establishments like coffee shops, small eateries, etc. From these generators, both wet and dry waste is collected in segregated form by dumpers and compactors that move in pairs collecting waste along their route. In the second category, the generators generating more than 100kg waste have been placed. These generators are hotels, marriage gardens, RWAs, etc. Only dry waste is collected from these generators as they treat the wet waste generated by them onsite.
C) Weighbridge: The weighbridge facility at the processing plant is a computerized facility and the first point of interaction for all vehicles incoming to the plant to offload their waste. All the incoming vehicles are waste upon entering the plant and after they have offloaded the waste to determine the waste that has been brought by them. Then a receipt is generated and recorded at the facility. This receipt depicts the quantity of waste transported, type of waste, registration number of the vehicle, source transfer station and the in-out time of the vehicle.
D) Waste Processing: The dry waste from both the transfer stations and the bulk collection vehicles is offloaded at the MRF centers, where they are further segregated and processed. The wet waste from the transfer stations and the bulk collection system is offloaded for processing at the central composting plant at the site. The wet waste of the bulk generators is processed on site by the respective generators.
The domestic hazardous waste is treated in a separate facility where it is transferred straight from the transfer station in biomedical vans. The domestic hazardous waste is incinerated at the Central Biomedical Waste Treatment Facility.
Garbage Transfer Station
Indore is one of the economically developed cities of Madhya Pradesh and is the financial capital of the state. Indore is the 9th largest city in India with population of around 25 lakhs. The city has been divided into 85 Wards and 19 Zones as the operational area for Solid Waste Management (SWM). In Indore, waste is collected in segregated manner i.e. the waste is segregated at source by the generators. The total waste generation in Indore is 1115 MTPD. Out of the total waste 58.25% is the wet or organic waste, 41.75% is dry waste and 0.5% is household hazardous and sanitary waste. The total wet waste generation is 650 MTPD (Approximately) and dry waste generation is 465 MTPD (Approximately).
The collected waste is transported by the Tri-partioned garbage tippers deployed in all 85 wards to the designated Garbage transfer station (GTS). Previously, the waste was being transported to the centralized processing plant which is approximately 20-23 kms from the city. To strengthen and reduce the cost of the Secondary Collection and Transportation System, IMC has constructed eight ultra-modern transfer stations of three types of models such as Ramp based static GTS, portable Compactors based GTS and semi portable Compactors based GTS installed by Hyva and TPS at different locations mentioned below within the city:-
Star Square

Kabitkhedi

F-sector, Sanwer Road

Sangam Nagar

Sirpur, Dhar Road

Lalbagh

Crystal IT Park

Rajshahi, DakkanwalaKua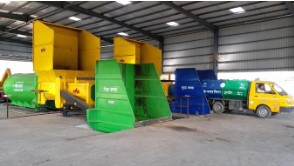 All of the above models have provision of segregated waste collection and transportation through Hook loaders to the disposal site. There are two hoppers one for the collection of dry waste (Blue colour) and second for the collection of wet waste (Green colour). The MSW from door to door garbage tippers is collected in two steps.  At first the dry waste is off loaded in blue hopper and thereafter the wet waste is off loaded into the green hopper. These hoppers are connected to blue and green containers respectively. The segregated MSW is compressed into respective containers. When the containers are filled to capacity, they are lifted by dedicated hook loader and sent to disposal site in a segregated manner. The Hook loader carrying wet waste off load their waste directly to the Centralized Composting Unit whereas dry waste is off loaded to the Material Recovery Facility 1 / Material Recovery Facility 2 at the disposal site.
The bucket for the sanitary waste and domestic hazardous waste is off loaded into dedicated drums and is transported to Common Biomedical Waste Facility (CBWTF) as per the rules covered under Biomedical Waste Rules 2016 only on regular basis.
Open Defecation City
Open defecation is due to lack of toilets and habits of people. Besides construction of toilets education was an important part of the mission ODF. In October 2016 NGOs were appointed by the IMC based on the strict criteria of turnover and urban planning experience. The main task of NGOs was to identify key ODF spots in and around the city.
The cleaning staff identified 72 critical ODF spots in the city. NGOs played a very significant role in terms of identifying ODF spots and informing about them to the authorities. The major success for ODF came through these NGOs who did a great job in identifying critical ODF spots and bringing out behavioural change among general public.
Open defecation refers to the practice whereby people go out in fields, bushes, forests, open bodies of water, or other open spaces rather than using the toilet to defecate.
Indore, 72 OD spots have been identified after the survey conducted in November, 2016. In order to eliminate the 72 OD spots, a complete strategy was formed by Indore Municipal Corporation.
Some actions undertaken to make Indore ODF were:
Devising strategy and action plan for identified 72 critical OD spots.

Shifting of 5000 slum households to non-occupied Basic Services for Urban Poor (BSUP) flats within a year.

Strict action and monitoring by officials of the IMC against defaulters and spot fine issued to over 500 defaulters.

Dedicated ODF triggering and monitoring activities by 6 NGOs and 400 officials of the IMC.
12343 IHHL have been identified to be constructed out of which 12343 in total have been constructed.
128 Community toilets have been identified to be constructed and out of which 128 in total have been constructed.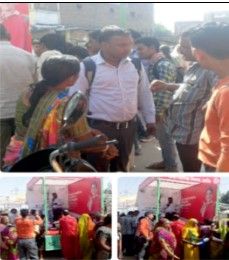 189 Public toilets have been identified to be constructed and till date, 189 have been constructed.
Modular toilets have been constructed in places where slums have been developed on private land, disputed land and transit settlements. This helped in tackling the sanitation challenges imposed by people living on illegally occupied lands, construction workers, nomadic tribes, truck parking areas etc. for whom constructing permanent toilet complexes is not feasible. Once these slums are relocated the modular toilets can be disassembled and used where required. IMC mandated that all construction sites shall provide sanitation facilities for its workers through a notification.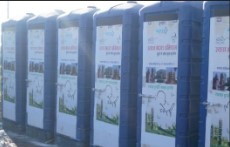 17 mobile toilets have been developed by IMC for use at open area functions and events such as marriages, political gathering, marathons etc. This modular toilet have been available for the citizen of Indore on chargeable. This charges are approved from Mayor in Council. For these mobile toilets, proper cleanliness with adequate water supply as per the SBM guidelines is ensured.
Creating Awareness: Information, Education and Communication (IEC)
Indore's plan to fight open defecation consists of multiple strategies with respect to creating awareness. It is not only important to build the relevant infrastructure but also essential to create awareness among the stakeholders involved, stakeholders being the "citizens of Indore". The key activities and initiatives undertaken are detailed below:
Triggering Activities and Monitoring
Triggering activities in Indore are specifically done for elimination of OD spots. Through these activities, awareness against open defecation is done by including the OD spots in the action plan and then turning those spots into Non-OD spots by performing triggering activities at the spots themselves.

Under triggering activities, actions were taken to eliminate 72 OD spots that were found in different locations and the section below details all the actions:

Lightening of the OD spots was done.

Duties were assigned for each of the OD spots round the clock and strict spot fine was imposed on anyperson practicing open defecation.

From September, 2016, 100% of municipal staff was involved in triggering activities for four months. Apart from Municipal staff, active involvement by Mayor, MLAs and ward councillor wasalso into pace. Zone wise team was also formed to carry out the triggering activities.

Target OD spots were essentially monitored with essential OD targets being at railway tracks, Bus stands, Transport area and major entry points of the city.

Banners indicating bad practices were placed at OD spots.
Awareness Campaign
From IEC to Behavioral Change – The Secret of Indore's Transformation
Information, Education and Communication (IEC) is the key to behaviour change whichlies at the foundation of making a success of Swachh Bharat Mission.
IMC adopted and undertook a range of IEC activities ranging from traditional to audiovisualto print and electronic media to social/digital media to change the behaviour ofdifferent segments of population and those who associated with different sectors viz. hotel and restaurants, hospitals, industry, transportation, commercial complex, park and entertainment, etc. A brief description of some of the novel IEC measures taken up byIMC for behavioural change in Indore is given below.
Grassroots innovations street plays, Wall paintings, FM radio constantly upgraded its content itself through incorporating new thematic messages to be communicated and utilizing creative ways of undertaking the same. Cultural events such as Ganesh festival, Dusshera, Gandhi Jayanti were utilized as events to spread the swachhata message. An important aspect related to IEC was its integration into monitoring activities. These activities verified (monitored) the current status of service delivery.
Verification process took place through different means. These included a) 311 app for service delivery, b) surprise checks through online site visits, c) monitoring staff attendance through biometrics. 311 app has emerged as an important means for registering complaints emerging from different residential areas. The complaints are addressed in quick turnaround time. The status of complaints registered and addressed is monitored by the Municipal Commissioner.
IEC was aimed at educating citizens on whom to reach out for availing services as well as articulate issues. The success of Swachh Indore depended on the nature of collaboration between service providers (community associations, citizen volunteers,NGOs) and IMC official machinery (CSI, Zonal officers and core IMC officials). While certain IEC media, such as nukkad nataks, rallies, swachhata samitis connected citizens with service providers – on the other hand technologies such as 311 App andwalkie- talkies helped in directly connecting with the IMC official machinery.
Hence, IEC was designed in a manner to build the capability of the citizen to reach out to service providers and official IMC machinery. For example, an aspect of solid waste management was recycling the waste to prepare compost. Linkages were created withDepartment of Chemicals and Fertilizers for preparation of compost. Linkages were strengthened with Department of Agriculture for ensuring supply of the compost to the farmers in neighboring locations.
The NGOs through IEC not only communicated how waste can be recycled but also how to prepare compost and how these can be beneficial to other stakeholders. Hence a cross partnership was established where the waste turned into a value product serving the needs of others. Alignment was thus built between different stakeholders –the waste generators, waste collectors, waste processors and users of value addedproducts of recycled waste. The IEC innovation ensured that these are communicatedto the citizens as to how the current set of Swachh activities align with policies,departmental efforts and has beneficial effects on other stakeholders.
Waste processing and final disposal
Before the upgradation was undertaken to Devguradia trenching ground it was simply a dumping ground on the outskirts of Indore. It used to emit foul smell and citizens living around the place made complaints to shift it to some other location. There were constant fires at the location leading to further pollution in the city. Upgradation work has been carried out in the area:
Upgradation of processing plant at Devguradia disposal site has been done.

New weigh bridge, entry gate, green belt, service center, boundary wall and construction of internal roads at waste disposal site has been done.

CCTV cameras have been installed for surveillance at waste disposal site.

Waste collection areas have been divided into sectors for efficient working of the cleaning staff.
Upgradation of trenching ground
Two engineered landfill of 6.25 acre each has been constructed and are used as and when required.

Bioremediation of 200,000 MT waste dump on 5 acre land has been achieved.

Two weigh bridges have been constructed.

Service station has been established where 6 vehicles can be serviced at a time.

Plastic collection waste center has been established

Fire hydrant system has been established for fire fighting

For small repairing in vehicles work shop has been established

Cement concrete road with drains and electrification with lighting has been done for better working of waste vehicles

Green belt has been developed inside and outside the disposal site

Boundary wall has been constructed around the waste disposal site
Establishment of small composting units for schools, marriage gardens, hotels and 3 vegetable markets
The small composting units have been established to improve solid waste management at the source itself: Khajrana Ganesh&Ranjeet Hanuman temple, school, marriage garden and hotel, and vegetable markets at Rajkumar and Nandlalpura, municipal gardens and parks, Zoo.
Biomethanation Plant for wholesale Vegetable and fruit Market
Choitram Mandi is known to be the largest mandi in Central India. Approximately 20-25 MTPD fruit and vegetable waste is generated on daily basis. Earlier, the waste was collected and transported to the centralized waste processing and disposal site of IMC, which incurred heavy transportation and manpower cost. Hence, IMC under its policy of promoting decentralized treatment of organic waste established Bio-methnation plant (Bio-CNG Plant) of 20 MTPD capacity. Through tendering process IMC appointed Mahindra & Mahindra Ltd. Mumbai to establish the plant, which was commissioned in December 2017. The overall project cost is Rs. 15.00 Cr out of which Rs. 7.2 Cr. VGF was provided by IMC. The concession period of the project is 15 years.
Presently all the fruit and vegetable waste generated at Choithram Mandi is being collected and processed in the Bio CNG plant. Approximately 800 kg of purified and compressed Bio CNG having 95% pure Methane gas is generated on daily basis. The pressurized Bio-CNG gas is used as a fuel to operate approximately 15 city buses. The digested slurry is passed through solid liquid separation unit, filtered liquid is used in slurry making and the remaining solid are dried and converted into organic compost.
Plastic waste collection centre
With IMC taking over the waste collection, rag pickers were rendered jobless. The rag pickers have been re-oriented and are now working at plastic waste collection centre with the help of NGO Sarthak and Basix.
Plastic waste collected at plastic waste collection centre is disposed off by two different methods: (i) Sold to cement plant at Neemuch and
(ii) Sold and used by M.P. Rural Road Development Board for construction of roads. Ten roads have been constructed with in Municipal Corporation by using plastic waste.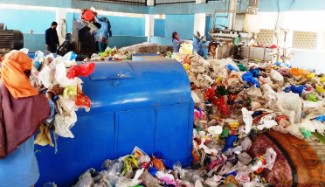 MECHANISED ROAD CLEANING
Respirable suspended particulate matter is an important parameter used by pollution control board to check the quality of sanitation and solid waste management in the city. Initially, the RSPM was very high in Indore at the level of 140-145 Microgram per CuM. One of the reasons for this high RSPM was dusty roads. Cleaning the roads manually was a difficult task in the main areas which are busy during most of the day. Night road sweeping was a critical aspect of road cleanliness.
A contract was issued to outsource this activity in Sept. 2016 after following due process of tendering. The contract ensured that high end machines were to be used for cleaning. International waste management a company from Kuwait quoted very low rates and their tender was selected.
The IMC was able to get their service at competitive price of Rs.0.7 million per month. They make the use of Elgin Sweeper Company's (USA) machines 12 which are highly reputed in terms of quality standards. Their machines have sturdy vacuum suction and very strong brushes. From October 2016 these machines were extensively used in the city and around 2400 dumpers of waste was taken out.
By December 2016 the dust in the city was substantially reduced. This international waste management company had a very good experience in litter picking. When they performed the task of litter picking they did it so efficiently that it motivated the cleaning team of the IMC to do a better job.
Some of the features of road cleaning service were:
Road sweeping of 450-500 Kms per day is done with ultra-modern road sweeping machines (USA make, Elgin machines) during night between 10.00 pm to 6.00 a.m. Twelve such machines were operational in May 2017.

Litter picking is done on both sides of the road up to 10 meters

Road sweeping on 1710 Kms roads less than 24 m width is done manually by sanitary workers of the IMC.

Day time morning 8 am, evening 4 pm approx 20 kms of road sweeping and litter picking is done by Municipal Corporation owned TPS company road sweeping machines.
Due to Mechanical road sweepingRSPM level has come down from 142 Microgram per CuM in 2014 to 76 microgram per CuM in 2017. This has made city dust free and has resulted in improvement of health index of the city.
Gap Assessment
To overcome all the deficiencies of present system and to establish soild waste management system of Indore city as per and Solid Waste Management Rules 2016 following actions are required.
100% door to door collection and storage of waste.
To make city bin free so as no storage of waste can be done along roads.
Fixing of litter bins in all commercial areas.
Establishment of modern transfer stations at strategic locations.
Establishment of waste to energy plant.