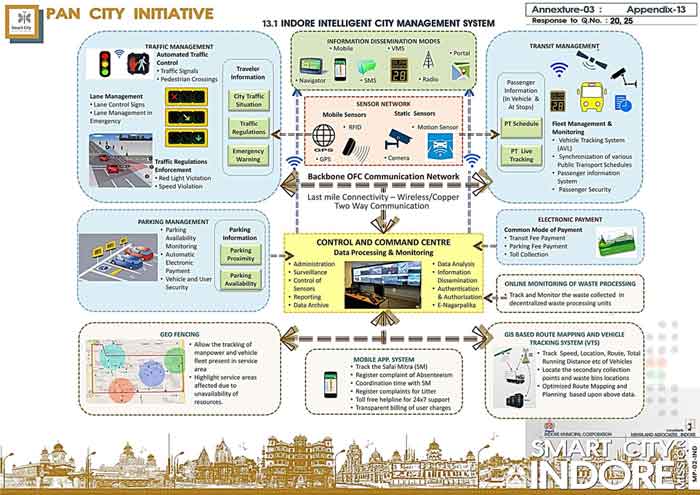 INDORE INTELLIGENT CITY MANAGEMENT SYSTEM (IICMS):
IICMS will be a comprehensive facility that aggregates all ICT-enabled services to be implemented in a phased manner. The proposed components included in the Smart City Proposal are:
Backbone Communication Network, Central Command & Control Center for Multi-purpose use with a Dashboard for realtime data analysis and information dissemination.
Multi-purpose backbone communication network: Laying of multi-purpose OFC communication network with a bandwidth of 10 Gigabit and 25 KMs Range for ITS, ISWM and other future pan city applications.
Central Command & Control Center: Commissioning of software's and hardware's for all ITS, ISWM and other future pan city applications.
City Dash Board: Collection, collation, analysis and dissemination of information for all ITS, ISWM and other future pan city applications.
Intelligent Transportation System (ITS):
ITS will integrate traffic, transit, parking and payment management using ICT elements. It will be integrated with existing and proposed transportation networks/system (BRT, Rail Metro, signals) streamlining traffic and transport management and improving user experience.
ITS entails three interrelated processes: data sensing technology, data communication and data processing & analytic. The specific sub-components are:
Traffic Management: Automated Traffic Control System (ATCS), pedestrian activated signals at crosswalks, bicycle actuated signals. Lane monitoring and control signs. Dynamic messaging boards and web/mobile applications with route information. Automated enforcement systems.
Transit Management: Real-time vehicle tracking (RVT/ CAD/AVL) and Fleet Management System; passenger information dissemination (On-Board, At-Stops, At-Stations); video surveillance (in vehicles, stops & terminus etc.)
Electronic Payment: Sensors and hardware for management and collection of Transit Fares (Metro, Standard Bus, IPTs including Taxi & Auto Rickshaw, Parking and Tolls); Electronic Smart cards and integrated with a payment gateway
Parking Management (On-Street, Off Street and Multi level): Sensors & cameras for data collection on parking lot capacity & availability. At-facility dynamic messaging signboard supported by web/mobile apps.
Intelligent Solid Waste Management (ISWM)
ISWM is an ICT-enabled system for improving O&M of the newly proposed innovative, PPP for SWM. Intelligent solutions will improve collection, transportation, landfill management, and waste-to-energy processing. Citizen services will be improved through mobile apps that facilitate grievance reporting and redressal.
ISWM will complement Swachh Bharat Mission with the following ICT based interventions:
Applications for Citizens and Safai Mitra for data crowd sourcing and compilation of management information on primary & secondary waste collection.
Smart Pool
GIS based Asset Management through Geo-fencing of waste bins, vehicles, personnel, Waste Transportation Route mapping and GPS based Vehicle Tracking Management System (VTMS)
Central Control and Command Center
Supervision and Monitoring of Weigh Bridge and Waste Processing Facilities including equipment's for Smart waste-to-energy plants such as smart conveyor belt and pooling device
Inclusion of pan city proposals
The Indore Intelligent City Management System is proposed for overall improvement of citizen services, influencing life of every citizen.
ITS will deliver positive impacts to a variety of social and economic groups. It will have widespread physical coverage ranging from slums, old city, CBD, wholesale markets, transport nodes, new developed areas, recreational areas to institutional areas. It will benefit tourists and visitors to the city improving their overall city experience. ICT will drastically improve user convenience. It will also improve the performance and reliability of the system (thus benefitting users not friendly with technology). More significantly, its impacts will go beyond physical inclusion to create SOCIAL, ECONOMIC, and ENVIRONMENTAL inclusion. It will ensure a better standard of living for city inhabitants with less noise pollution, better air quality, better utilisation of public space and increased road safety for all road users, especially the elderly, children and specially-abled.
Waste Management is not only the biggest national concern but also a priority concern of every citizen. The spectrum of inclusion is similar to that of ITS, covering every citizen. It will have a visible, health and also social improvement in the city effecting every citizen.